Dr. Vera Axyonova, M.A.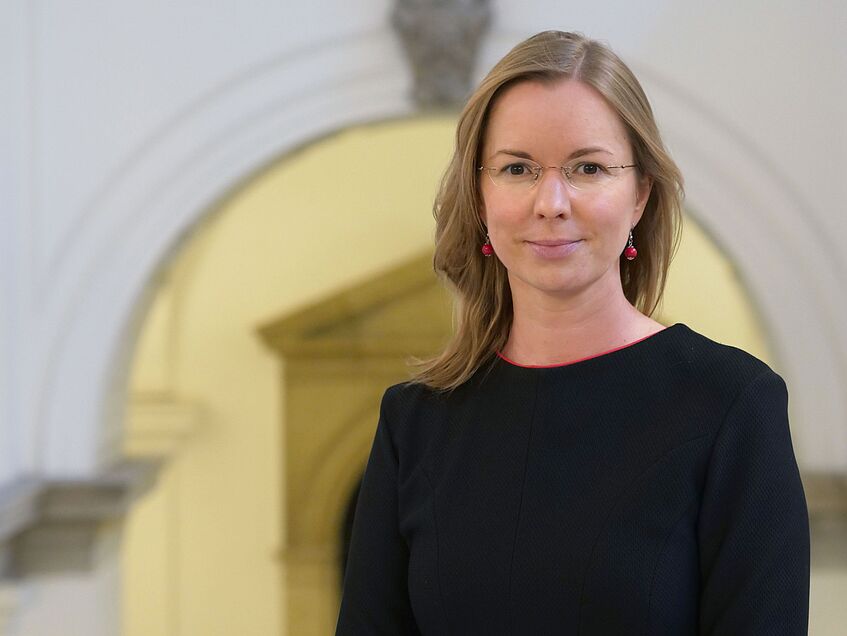 Dr. Vera Axyonova, M.A.
Marie Curie REWIRE Fellow
Main Research Areas and Interests
Expert knowledge in domestic and international politics
Political communication, esp. perceptions and framing
Critical approaches to international security and conflict studies
International organisations as normative and security actors
EU External Action
Post-Soviet space
Vera Axyonova is a Marie Curie REWIRE Fellow at the Political Communication Research Group of the University of Vienna. In her project, entitled "Expert Knowledge in Times of Crisis – Uncovering Interaction Effects between Think Tanks, Media and Politics beyond Liberal Democracies", Vera examines how and to what extent institutionalised expert groups, such as think tanks, shape policy agendas in non-democratic and hybrid political contexts. Furthermore, she studies how opinions produced by expert elites are adopted by the national media for transmission to the broader public, enabling policymakers to legitimise their decisions in times of crisis.
Before joining the University of Vienna, Vera worked in research, science management and policy consulting, including as the Managing Director of "Academics in Solidarity", a transnational mentoring program for at-risk scholars at Freie Universität Berlin, as a Postdoctoral Researcher/Assistant Professor for International Integration at Justus Liebig University Giessen, and as a Hurford Next Generation Fellow with the Carnegie Endowment's Euro-Atlantic Security Initiative. Vera Axyonova is co-founder of the ECPR Research Network on Statehood, Sovereignty and Conflict. She holds a PhD in Political Science from Bremen International Graduate School of Social Sciences.
------------------------------------------
Kolingasse 14, 1090 Wien
Zi. 6.22
eMail: vera.axyonova@univie.ac.at
Recent Publications
Axyonova, V.

, & Lozka, K. (2023). 'We are at war': Reflections on positionality and research as negotiation in post-2022 Ukraine. Journal of International Relations and Development. https://doi.org/10.1057/s41268-023-00297-z

Axyonova, V.

(2023). 1. A Journey to the 'Self': From Precarity as Non-belonging to the Search for Common Ground. In O. Burlyuk & L. Rahbari (Eds.), Migrant Academics' Narratives of Precarity and Resilience in Europe (1st ed., pp. xxxi–8). Open Book Publishers. https://doi.org/10.11647/OBP.0331.01

Axyonova, V.

, Kohstall, F., & Richter, C. (2022) Academics in exile: Networks, knowledge exchange and new forms of internationalization. Bielefeld: Transcript, 2022. Open access, available for download at: www.transcript-verlag.de/978-3-8376-6089-0/academics-in-exile/

Axyonova, V.

& Gawrich, A. (2022). Conceptualising Normalisation in International Organisations' Responses to Secessionist Conflicts: Insights from Eastern and South-Eastern Europe. In: A. Gawrich, P. Haslinger & M. Wingender (eds.), Analysing Conflict Settings: Case Studies from Eastern Europe with a Focus on Ukraine (pp. 11-24). Wiesbaden: Harrassowitz. Open access, available for download at: https://www.harrassowitz-verlag.de/pdfjs/web/viewer.html?file=/ddo/artikel/84893/978-3-447-11771-5_Kostenloser%20Open%20Access-Download.pdf#pagemode=thumbs

Axyonova, V.

, Cenusa, D., & Gawrich, A. (2022) International Negotiations and Domestic Change in the EU's Eastern Neighbourhood: Deconstructing Anti‐Discrimination Reforms in Moldova. East European Politics and Societies, 36(2), 2022, pp. 378‐398. doi.org/10.1177/0888325420968911
Weiffen, B., Gawrich, A. & Axyonova, V. (2021). Re-organizing the Neighborhood? Power Shifts and Regional Security Organizations in the Post-Soviet Space and Latin America. Journal of Global Security Studies, 6 (1), ogz080, doi.org/10.1093/jogss/ogz080.
Axyonova, V. & Gawrich, A. (2018). Regional Organizations and Secessionist Entities: Analyzing Practices of the EU and the OSCE in Post-Soviet Protracted Conflict Areas. Ethnopolitics, 17 (4), 408-425, doi:10.1080/17449057.2018.1495358.
Axyonova, V., Gerasymchuk, S., Kakachia, K. & Rosca, A. (2018). The European Union as a Transformative Power, a Donor or a Security Provider?: The View from the Eastern Partnership Countries. European Foreign Affairs Review 23 (1/1), pp. 23-40.
Axyonova, V. & Schöppner, F. (2018). Ukrainian Think Tanks in the Post-Euromaidan Period: Exploring the Field. In: Shapovalova, N. & Burlyuk, O. (eds.), Civil Society in Post-Euromaidan Ukraine: From Revolution to Consolidation. Stuttgart: ibidem/Columbia University Press, pp. 215-240.
Axyonova, V. & Zubko, D. (2017). The European Union through the Eyes of Ukrainian Think Tankers: Studying EU Perceptions Post-Euromaidan. Kyiv-Mohyla Law and Politics Journal 3, pp. 181-200.
Burlyuk, O. & Axyonova, V. (2017). Protecting the Rule of Law in Post-Soviet States: The Relevance of European and Eurasian Integration. In: Petrov, R. & Van Elsuwege, P. (eds.), Post-Soviet Constitutions and Challenges of Regional Integration: Adapting to European and Eurasian Integration Projects. London: Routledge, pp. 28-47.